Live Migrate VM from Windows 2012 to Windows 2012 R2 RTM
Today Microsoft announced the availability of Windows 2012 R2 RTM to Technet/MSDN subscribers.
As I have a Technet subscription with my MCT I had to download right away install and see if it works….

When I had installed the server I activated the Hyper-V role and the management tools

In the RTM version of the Hyper-V PowerShell module there is 178 cmdlets and in the preview it was the same number so no new cmdlets have appeared in the latest release.

I had to test the Live Migration feature and see if it worked to move a VM from a win 2012 Hyper-V to a R2 RTM, I had some issues when trying from the R2 ( I had done the delegation in the AD for kerberos) and when trying from the hyper-v manager it was not totally clear what was wrong: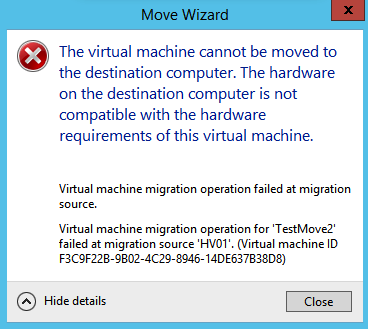 and it was in the PowerShell console the error was stated  and as you can see I had forgot to set up a virtual network with the same name as on the source host and that was why the migration failed..

once that was done the migration worked flawlessly 🙂

Tomorrow I will continue evaluate the RTM release and maybe there will be a new post about my findings then  🙂