My company is going to host a seminar this thursday on Microsoft Sweden in the subject of Switch To Hyper-V.
Today I got the registrations from the guy receiving them from the company webpage. Every registration that is done results in a mail (yes I know! it is so old fashioned!!) Here is an example mail msg: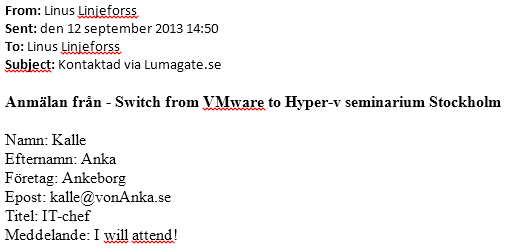 So to collect the info about the attendees and the information I used PowerShell.
on ScriptingGuys page I found their massage of Outlook and I added Attachment and Body objects to it.

And then as every mail was sent from the admin-guy as an attachment I had to save them to a local directory and from there do the extraction. It would have been easy to do the save for all just in Outlook if not all of  the emails had the same name!!

To fix that I used PowerShell again

And here is my script to get the attendees objects out
Get Attendees out of Attachments
1

2

3

4

5

6

7

8

9

10

11

12

13

14

15

16

17

18

19

20

21

22

23

24

25

26

27

28

29

30

31

32

33

34

35

36

37

38

39

40

41

42

43

44

45

46

47

48

49

50

51

# Get Registered users in email form mails

# Niklas Akerlund 2013-09-30

$msgfiles

=

get-item

C

:

\

switch

\

*

foreach

(

$file

in

$msgfiles

)

{

$outlook

=

New-Object

-comobject

outlook

.

application

$msg

=

$outlook

.

CreateItemFromTemplate

(

$file

.

fullName

)

$info

=

$msg

.

Body

-split

'["\n\r"|"\r\n"|\n|\r]'

foreach

(

$row

in

$info

)

{

if

(

$row

-cmatch

"Namn:"

)

{

$Name

=

$row

.

split

(

":"

)

[

1

]

if

(

$row

-match

"EfterNamn:"

)

{

$LastName

=

$row

.

split

(

":"

)

[

1

]

if

(

$row

-match

"Företag"

)

{

$Company

=

$row

.

split

(

":"

)

[

1

]

if

(

$row

-match

"Epost"

)

{

$email

=

$row

.

split

(

":"

)

[

1

]

if

(

$row

-match

"Titel"

)

{

$Title

=

$row

.

split

(

":"

)

[

1

]

if

(

$row

-match

"Meddelande"

)

{

$message

=

$row

.

split

(

":"

)

[

1

]

$obj

=

New-Object

-TypeName

PSObject

-property

$data
if you do have the mails in the inbox and not as an attachements you could use $switch.Body instead of saving them and using Get-Item 🙂