Microsoft Ignite on Tour Stockholm May 5-6
It is time again for Microsoft Ignite on tour in Stockholm and this time it is in May and it will be the last one on the On Tour serie 2019-2020. It will be two packed days with awesome content and learnings! I will of course be there and network and watch sessions..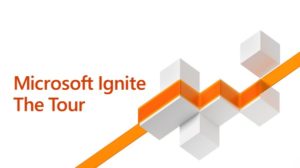 To register, go to the event site and do it right now, as I have been informed already about 2900 have already done it and the seats may run out!
The different learning paths are :
Managing Cloud Operations
Azure Fundamentals
Journey to Microsoft Teams
Securing your organisation
Migrating Server Infrastructure
Content collaboration, communication, and engagement in the intelligent workplace Learning Path
Deploying, managing, and servicing windows, office and all your devices Learning Path
Meeting organizational compliance requirements Learning Path
Power Platform
Microsoft Dynamics 365
Modernizing web applications and data Learning Path
IT administrator's guide to managing productivity in the cloud Learning Path
Improving reliability through modern operations practices Learning Path
Developing cloud native applications Learning Path
Develop integrations and workflows for your productivity applications Learning Path
See you there!