Error 21161 when doing Bare-Metal deployment on VMM 2012 R2
Yesterday I was testing Bare-Metal deployment on a VMM 2012 R2 with a new Hyper-v image and got the error 21161 during the process of making a physical machine into a Hyper-V Server.

I did of course check the library server (which was the same as the VMM server) and also that the vhdx that contains the Hyper-V image was in the library. I also checked the profile where the reference to the VHDx is and everything looked good.
The error was resolved when checking out the library server properties and changing to a host group instead of the default.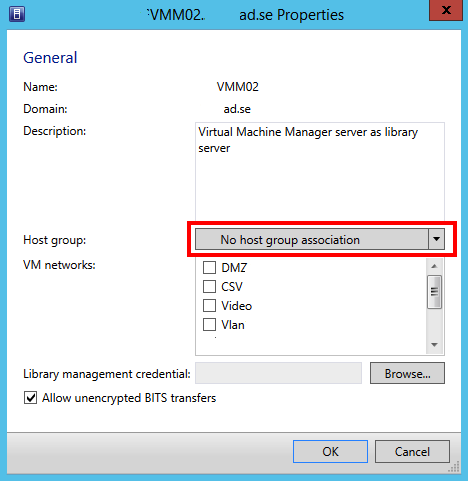 I have been deploying servers from this VMM before and why it started to complain right now is a mystery and I will dig and see if I can find the reason and if I do you will get an update on the blog, but now you know how to get it running 🙂
Update: Daniel Clarke mentioned my fix, In the VMM I have as this error occured I had not updated to UR3 during the time between the deployments which would otherwise had maybe explained the error. I have now updated the server to UR3 and can still do bare-metal deploy.
happy deployment!