Upgrading to WMF 3.0 on Win 2008 R2 SP1 Hyper-V Core
If you still have some Windows 2008 R2 SP1 Core Hyper-V hosts running and thinking of upgrading to WMF 3.0 there has been some problems with the VMM 2012.
I have a Win 2008 R2 Core SP1 Hyper-V  in my VMM 2012 SP1 UR2 and wanted to test if this was still an issue. The main reason for upgrading to the WMF 3.0 is the rebuild of the vmm refresh that is described in this blog post.
First I just tried to run the install file for WMF 3.0 and got the following dialog, and after reading a bit more realizing that it was because I need the .Net 4 as a prerequisite.

I installed the .Net 4 and there are some things that need to be configured on the Core server before and that is explained on the download page for .Net for Win 2008 R2 SP1 Core
After that It worked to install,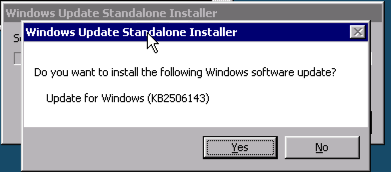 And after rebooting the host I looked in VMM and also tried some refresh and start/stop on VM´s and setting the host in maintenance mode, everything worked without any issues 🙂