Xsigo I/O virtualization will change the datacenters…
Last week we had Xsigo visiting us on the office, at first i felt reluctant to another thing you have to put in and pay for when deploying a virtualization platform. but soon after we got into the presentation i started to get the picture and realized the huge capability of their solution and the gap in virtualization solutions that they fill.
So what do their solution do? The whole point is to not only virtualize the servers with some hypervisors and buy expensive storage with autotiering and leave the middle layer with the SAN and Network connections untouched, in a large deployment there will be cables to connect, lots of cables..  So the point is to connect all storage and network to the Xsigo I/O Director and from that you connect your servers (blade or rack) with Infiniband cards and cables (they can support up to 40 Gbps), this leads to quite a lot of savings on cables. But the smartest thing with this is that you get intelligence in the Xsigo box which gives you the opportunity to choose what bandwidth you would like to assign to what traffic, because you connect everything to it (FC, FC0E, iSCSI, IP etc). If you have servers that SAN-boot you can very easily with their management software point this profile to another hardware and all MAC´s and WWN´s will be the same! Also as you can make Server profiles, your deployment of new hosts will be very rapid and with no delays from example the networking team or SAN teams cause you have already defined this when doing the connection of the exisiting SAN and network devices :-). Another thing that is worth mentioning is when for example you are changing storage from iSCSI to FC, you will not have to put HBA cards and cables at each server.
As you can se on the picture there is massive amount of cabling that can be reduced with this solution. What is also cool is that they have a plugin för the VMware vCenter so you can manage their system via the VI Client.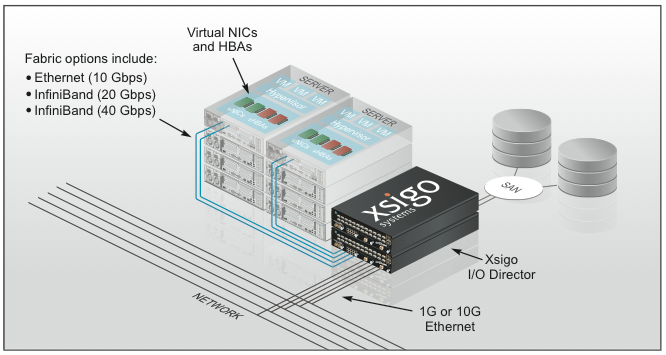 The Xsigo I/O Director is of course not for free but can be a real cost-saver and utilizer when deployed in a new datacenter or when redesigning an existing.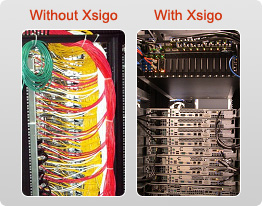 I hope to in a near future get more knowledge about this product and also implement it. if you look at their site you can see that they have some large customers that have adopted their technology.