Virtualization platform matrix
Found this matrix over virtualization solutions and at this site you can get quite a good overview what the competitors can offer and what is enough for your virtualization solution. Still VMware is a bit ahead but Microsoft and their Hyper-V solution with System Center are getting closer.

I believe that every virtualization platform need to be thoroughly designed and thought through not just on the  technical level but also at the organisation and operational levels. As they write in this book, "Design is making the VMware vSphere environment do the things it needs to do"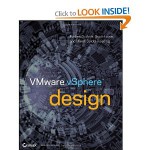 I really want to recommend this book as it covers much more than just the technical bits on how to tweak the vSphere installation.
//N