Microsoft Teched 2014 in Houston post #1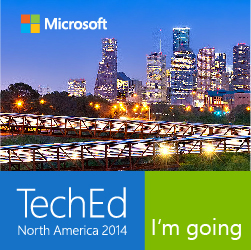 It´s just about one week left until the Microsoft TechEd 2014 starts in Houston with about 15 000 attendees!
I am really looking forward to this event and the following sessions will be in my priority list and most likely you can find me in those rooms:
Monday
Keynote
Comment: Of course I will be at the Keynote to see what Brad has to say about Hybrid Clouds in the Enterprise
Monday, May 12 11:00 AM – 12:00 PM Room: General Assembly C
Comment: This session is one of the foundation sessions and the one in my area of interest, so this is added of course!
Tuesday
Wednesday, May 14 10:15 AM – 11:30 AM Room: Hilton L2 Ballrm D
Comment: One of the best speakers again, Jeffrey Snover will dig through this interesting session
Wednesday
Wednesday, May 14 3:15 PM – 4:30 PM Room: Grand Ballrm C
Comment: This session is presented by the one and only Mark Russinovich, it is always a treat to see this man on stage and think that this topic will not make me disappointed!
Wednesday, May 14 5:00 PM – 6:15 PM Room: 320A
Comment: Interesting topic by a MVP friend Damian Flynn
Thursday
Thursday, May 15 1:00 PM – 2:15 PM Room: 362A
Comment: If you want to learn from the best DPM gurus then this is the session to be at, with my good friend and MVP colleague Robert Hedblom!
I will probably find some more interesting sessions later and will update this list, I will also make a new post when the sessions are available to view on Channel 9.
Here is also a list that my friend and colleague Fredrik Nilsson has wrote in the Channel 9 forums what you should pack to make your visit as smooth as possible, unfortunately he could not attend this year in TechEd US 🙁