Installing System Center VMM 2016 and SQL 2016 on Windows Server 2016 Core
I am a firm believer that Servers should not be used for the wrong things and thus I have now installed the new System Center VMM 2016 on a Windows Server 2016 Core.
In my home lab I do not have so many hosts so I have used the opportunity to install the SQL 2016 on the same core instance.
As I am installing the SQL on the same machine I had to enable the .net 3.5/2.0 feature on this server and yes I know and can´t agree more, please remove this requirement dear SQL team and move to the future!

SQL 2016 does not support installing via the wizard on server core so I used the command line way (by the way based on this information req page it is not supported on Windows 2016 core yet 😉 )
Setup

.

exe

/

qs

/

ACTION

=

Install

/

FEATURES

=

SQLEngine

,

Replication

/

INSTANCENAME

=

MSSQLSERVER

/

SQLSVCACCOUNT

=

"vniklas\sqlsvc"

/

SQLSVCPASSWORD

=

"<StrongPassword>"

/

SQLSYSADMINACCOUNTS

=

"vniklas\sqladmins"

/

AGTSVCACCOUNT

=

"NT AUTHORITY\Network Service"

/

TCPENABLED

=

1

/

IACCEPTSQLSERVERLICENSETERMS
Although it is not supported with the wizard for sql install on core it do show some progress through a graphical dialog…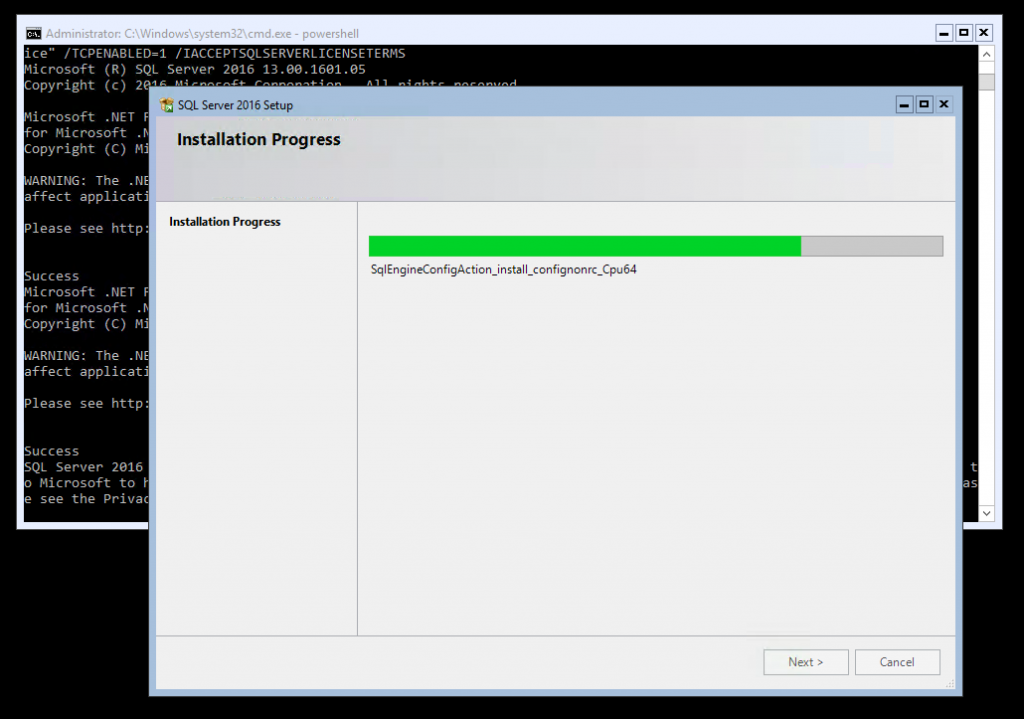 So once that was up and running I installed the ADK for windows 10, and I used the one for Windows 10 1607.
And then I could start the VMM install. And yes there is a command line way of installing the VMM but this time I wanted to see if I could use the wizard in core!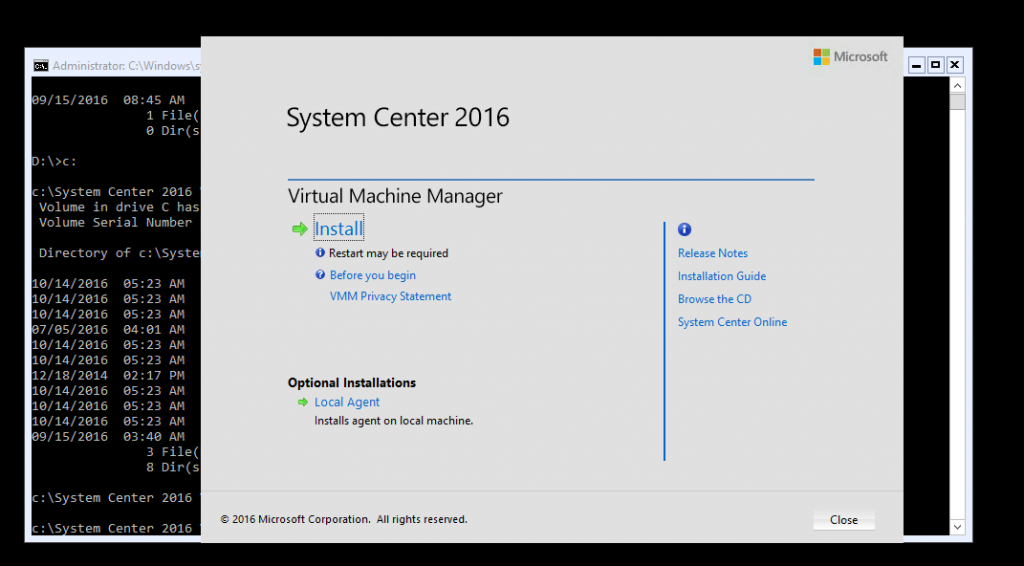 During the installation the wizard complained about my memory that I had assigned to the VM that I was installing on and I could with the superduperfeature in 2016 add more to the running VM without doing any stop and start!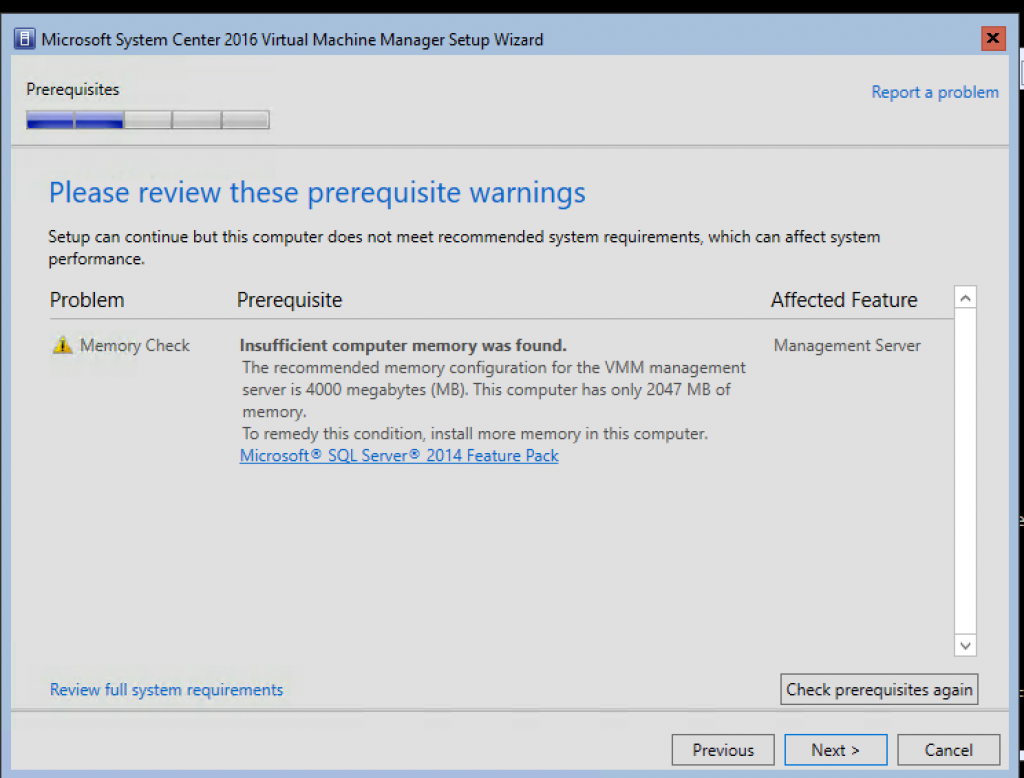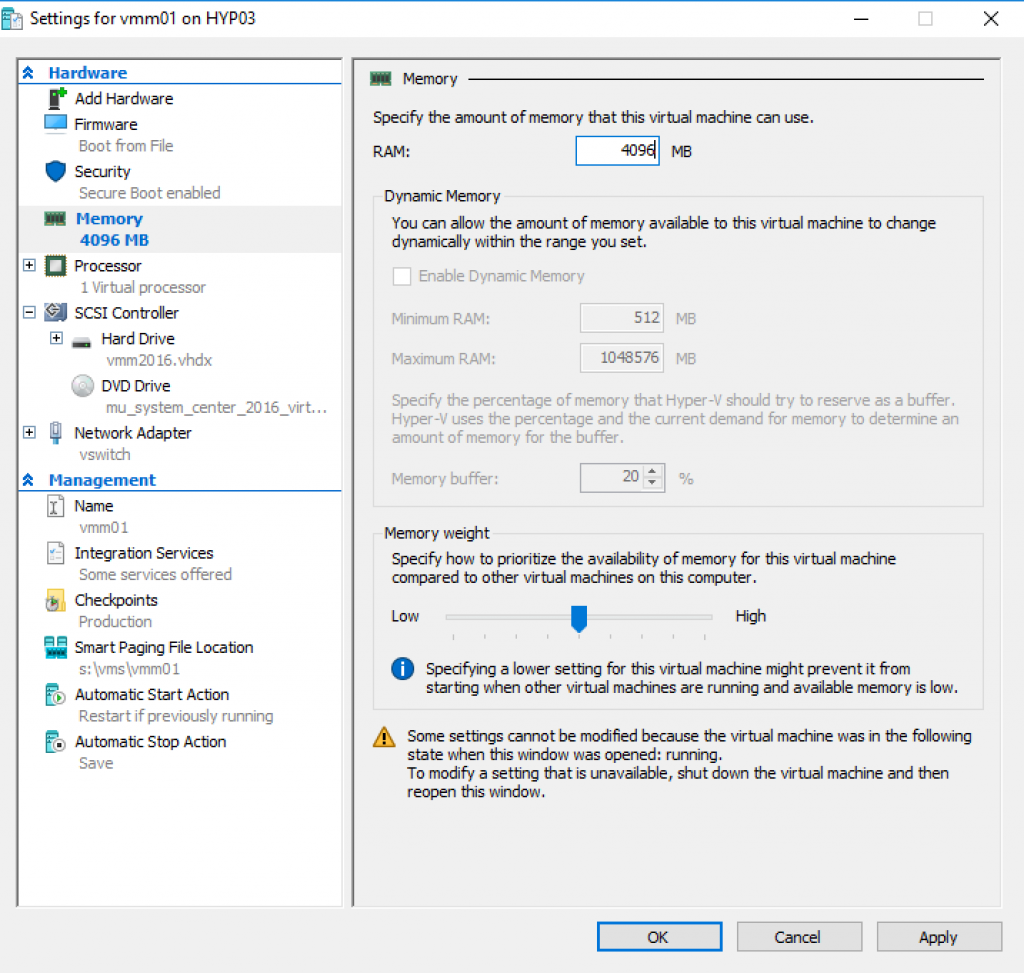 After that I had no more issues and the installation completed successfully!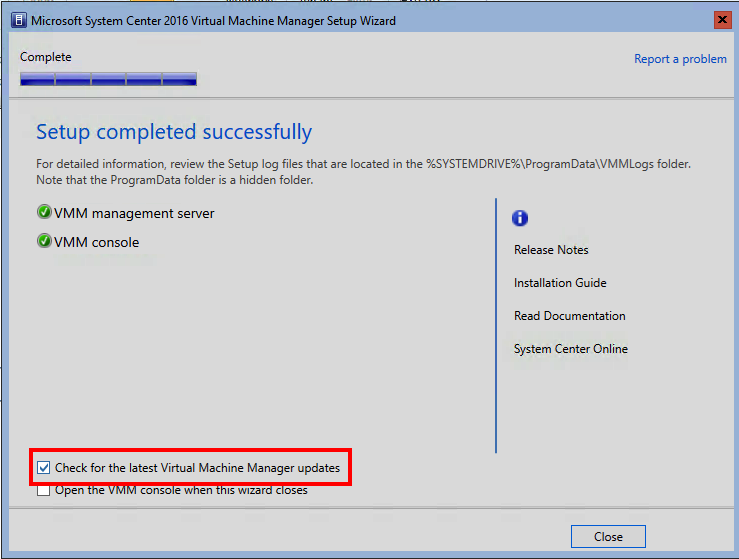 Well once installed I had to do some patching as at the same time VMM 2016 was released Microsoft also announced the availability of CU1 🙂 and trying to use the short cut from the installation dialog fails on a Server core as those GUI parts are not present! I can though use the Sconfig and the "Download and install updates" option to get the updates I want…

Happy playing!